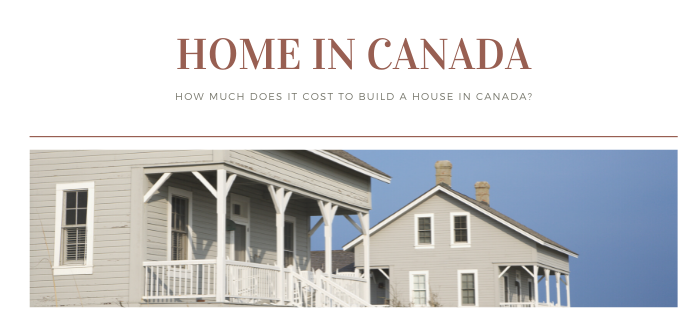 Building a brand new home allows you to create a home you love with all your ideal features. Many home buyers are interested in building a forever home in Canada. Opting to build can be a better option than choosing a home and renovating it to meet all your needs, both cost and time-wise. If you've found a builder you'd love to work with that produces the style of homes you love, it might be worth the cost of building your home from scratch. The cost of building a home in Canada in 2021 depends mainly on the features you want and the location of your build.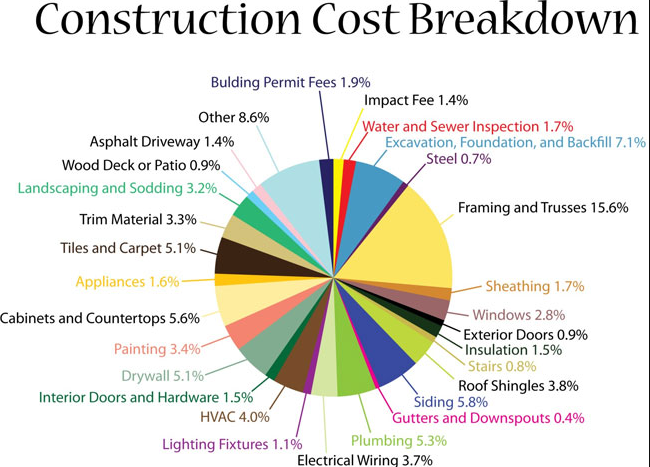 Construction cost breakdown
When you work with a builder, there will be features included in the home's base price, but you'll likely want to opt for some upgrades. Here are some of the factors that impact the total price of the home.
Location and Land. Especially in Ontario, the closer you get to Toronto and the GTA, the more money you'll have to pay for your land. The land is likely going to be the most expensive part of your purchase. There's always the risk of large rocks during excavation that you'll need to pay for, run-ins with construction, and the quality and angle of the land. You'll need to set some money aside for hidden costs regarding the land. It will almost always be less expensive to build a home outside of the city or significant areas or rural areas. In the GTA, it's highly competitive and desirable to live in the cities, so you'll pay much more for your location than if you choose a smaller city, like London.
Fees. Whether you build or buy an established property, there will be fees, permits, and inspections. There are plenty of inspections to ensure your home is being built to meet the regulations when building. Your builder will need permits, and there will be fees to confirm that your home is built correctly.
Designs and Upgrades. The design of your home, the layout, and the number of stories will significantly impact the cost of your home. When you choose a bungalow, it's much less expensive than building a two-story due to extra building materials for stairs, flooring, and more. When you upgrade the materials you use, like opting for natural hardwood versus vinyl flooring, you'll expect to pay more. The more square footage your house is, the more it'll cost.
Labour. When it comes to hiring a fantastic company to build your home, you'll truly get what you pay for. Hiring a reputable company with trustworthy reviews and a solid reputation will be your best bet, regardless of how much it costs. You'll also have to cover the costs of the tradesperson you'll have to hire, like plumbers, electricians, roofers, installers, and more.
Covenants. There can be restrictions from homeowners' associations regarding the materials used, land, or design of a home in specific communities. Depending on the community you choose, especially if it's a gated community, that can be common in more upscale neighbourhoods.
What does it typically cost to build a home in Canada?
The typical cost for building a home in Canada in 2021 is anywhere between $300 and $350 per square foot, without the cost of permits and land. However, these numbers are not concrete and can fall above and below, depending on the above factors. Currently, construction material costs continue to go up. If you choose a highly competitive and desirable area and want all the upgrades, you'll also be on the higher end of the spectrum. If you choose a pre-designed home with all the included features, you'll pay a lot less.
Ontario's housing market is scorching in 2021, with buyers paying well and above asking prices in Toronto and the GTA. If you want to save money on your property or looking for something more budget-friendly, choosing a small town, smaller city or village is more affordable. Compared to the GTA, building a home in Ottawa would cost between $235 and $375 per square foot. Rural areas are significantly cheaper as well.
Getting an Estimate
Suppose you're set on building a home in Canada, there are two main ways to go about getting an estimate for your future home. Option one is to go online and find a construction cost calculator. An online calculator will provide you with a rough estimate of your home based on the options you select, and it will make some assumptions on your behalf, so take the final number with some grain of salt, but it can give you a place to start.
The second option is to get a custom quote from a builder. If you've been researching building a home in your area with either a new project starting or they're taking on custom projects, you can contact them for a quote. If you have a solid idea of what you want, the more information you give them, the more accurate your quote will be. You may be able to get some more details on aspects you didn't know about or hadn't considered yet.
Financing Your New Home Construction
When you're ready to take the leap and hire a home builder to construct your dream home, you have some options to finance your purchase. If you have the money saved up to pay for the build in full, then that's amazing. If you're not so fortunate, you can apply for a loan for home construction or a self-build mortgage. These are also excellent options if you have a certain amount of money saved, but the build has gone way over budget. Like any home purchase, you'll be required to have a downpayment. For a self-build mortgage, it's around 20 to 30 percent of the build price.
Evidently, there are plenty of factors that go into building your own home and the total cost, but it might be worth it to have the home of your dreams – that is if you can keep it within your budget and plan for any additional costs.