Service Overview
Dotch Construction has proven results for setting exceptional standards in cost control, planning, scheduling and project safety. Our 24 years of experience gives us a competitive advantage over others in our field. Dotch Construction & Renovation completely understands the process to restore distress homes from inception to completion. We are fast, reliable, and competitive.
Full House Renovation Process Include
General contracting and management
Vinyl windows and doors
Masonry and concrete work
Exterior stucco
Interlocking and landscaping
Decking, Fencing, Paving
Custom kitchens and bathrooms – supplied and installed
Countertops (e.g., quartz, granite, marble)
Mill work (paneling, baseboards, casings, crown moldings and more)
Flooring (e.g., hardwood, laminate, engineering hardwood)
All types of tilling work
Insulation and vapor barrier
Remodelling, open concept
Framing
Drywall work
Taping, plastering, and sanding
Interior and exterior painting
Electrical, plumbing and mechanical work
New stairs and refinish
Supply and installation of interior doors
Creation of separate entrance for the basement
Finished basement
Addition
Open concept
Dotch Remodeling and Renovation Process

Pre-Design Stage: We take the time to understand your expectations and ideas. As a result, we will present you several plan options for analyzing the existing floor plans, zoning information, and building requirements.
Work & Progress Stage: we will communicate at every step of the way to ensure we can accommodate any changes, alterations or additions you might have while the project is underway to our best ability. Any significant shift in the requirements impacting materials and labour are subject to added costs.
Estimating & Budgeting: our transparent approach allows us to offer you a comprehensive budget with a preliminary breakdown of the design, engineering, permits, material and labour cost. We will consult with you on the types of materials available and recommend the elements that could minimise your expenses without cutting corners or compromising quality.
Permits & Licensing Stage: At Dotch Construction, we value your time. Therefore we will be in charge of getting all the required documentation and licenses necessary for your project.
Work Scheduling Stage: we work hard to make sure we always meet your deadline and time regulations, securing and allocating the right resources.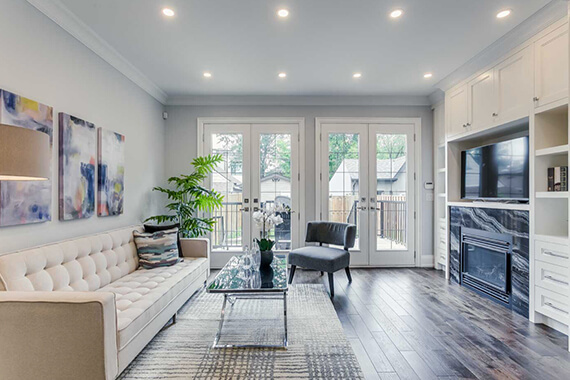 ---
The Dotch Advantage
With over 24 years experience and a real focus on customer satisfaction, you can rely on us for your next project. We provide a professional renovation and installation services with a real focus on customer satisfaction.
Financial Responsibility to Our Clients
Superior Quality and Craftsmanship
Quality and Value to the Projects We Deliver
Highest Standards in cost control
On Time and on Budget
Real Focus on Customer Communication & Satisfaction
Most commonly asked Questions
Yes, in fact, we encourage our customers to get referrals from past clients about their experience with us.